Are you a new or experienced agent interested in creating an insurance agent business plan?
Want samples or templates of how to design your own insurance agent business plan?
If so, you've found the right article!
In this article, I teach you how to develop a business plan get you up and running in the insurance business.
Let's get started!
Overview
Why Create An Insurance Agent Business Plan?
While this article is for new or experienced agents, I wrote it as many agents lack focus in their insurance careers.
In fact, I think one of the biggest factors for failure in this business is confusion.
It's dissolution of focus and an attraction to "shiny object syndrome" that take out many (including me at one point) who aspire to selling insurance successfully.
There's plenty of ways to successfully sell insurance, no matter if you sell Medicare Advantage, final expense, mortgage protection, or annuities.
It all works!
However, you MUST decide on your course of action, then stick to it, DESPITE adversity.
Below, I will cover 6 steps to craft a simple yet effective insurance agent business plan to put you on a course for success.
Income Goal
The first step is to decide how much money you want to earn over the next 12 months.
How much? It depends.
Bottom line, it must be a challenging yet achievable goal.
If you're brand new, $50,000 to $75,000 income in 12 months is not a bad start.
If you're experienced and already hitting those numbers, crank the goal up to the $100,000 range.
Why not put a goal of making $250,000 or $500,000 in your first year or two?
Let's be honest. While I will encourage to reach for the stars, you are entering a new line of work.
There's much to learn and the learning curve is ALWAYS longer than anticipated.
The GOOD news is that those numbers ARE achievable with time, effort, AND focus you receive through a solid insurance agent business plan.
Here's a fundamental truism… Successful people do not become successful overnight.
It takes years – decades even – of hard-work and discipline, enduring adversity and pressure from family and friends to consider something "more dependable."
Guess what? You are no different.
Bottom line, create an annual income goal in your insurance agent business plan that's exciting, motivating, yet within the realm of achievability.
6 Step Process
Define Your Niche
Next, decide which market you plan to target.
A quick story. Recently, I spoke with an agent partnered with me. She's very good selling life insurance, and she wants to go into Medicare.
There's lots of certifications to pass and knowledge to absorb. Feeling overwhelmed, she called and asked, "How do I stay balanced?"
In a nutshell, this is what happens to many agents.
They hear how great so-and-so insurance is. Then, they devote a portion of their time to that new insurance sales concept.
What's the problem with this?
If your attention is spread too thin, you're effectiveness in EVERYTHING drops.
This is why due diligence is so important. In part, this is why I put up my insurance jobs review article, in addition to reviewing some of the more popular insurance markets in in-depth write-ups.
As you craft your insurance agent business plan, take time to inventory what product and market REALLY excites you.
Focus!
Focus your attention on ONE thing initially. Become a master of that one thing.
The truth is there's TOO MUCH opportunity in the insurance sales business.
As the old saying goes…
"You can be anything you want to be, but you can't be everything you want to be."
My recommendation is to find your ideal insurance market, then put blinders on.
Do nothing else for 6 to 12 months. Give yourself the opportunity to learn this business.
What if you're already experienced in one market? Should you consider adding an additional product as a part of your insurance agent business plan?
That's fine by me.
Just understand you'll still experience overwhelm. But not as much as the new agent.
Nevertheless, I recommend only adding 1 additional product, not multiple products.
Leads
A big part of your insurance agent business plan needs to address the insurance leads question.
Why are leads important?
First, the best agents have a consistent source of leads generated every week.
For final expense leads, they may use direct mail, telemarketing, or Facebook leads. Same with Medicare Advantage leads.
Even if you plan on not selling either final expense or Medicare Advantage, decide on what lead generation strategy is best, then COMMIT long-term.
Agents in my agency are instructed to purchase the highest quality leads, while staying away from well-known lower-quality leads.
Don't come into this business, have the highest hopes, and use the cheapest leads!
Have you ever heard of the saying, "You get what you pay for?" It's true in life, and it's true in buying insurance leads.
Funding
Now that you've decided on your lead generation strategy, the next step in crafting your insurance agent business plan is to figure out,
"How much money am I willing to risk on myself in this business?"
In most cases, you're looking at several thousand dollars' investment minimum.
Sometimes it may be $3,000, maybe up to $5,000.
Starting investment depends on lead volume, the market you're targeting, and whether you're starting full-time or selling insurance part time.
Work Schedule
As we are getting more detailed in our insurance agent business plan, the next step is to decide on the work schedule necessary to achieve your goals.
For example, if your weekly production goal is $3000 in annual premium working 3 days weekly, you need to average $1000 production daily.
If you're average sale is $600, you need to sell around 2 policies a day to hit your goal.
Further, let's project you'll close half of your insurance sales presentations. That means it takes 4 presentations to close 2 insurance policies.
What does all this mean?
It means you must complete 4 appointments daily over the 3 days selling insurance to hit your production goal.
Can you see how more specificity in your activity translates into more clarity in achieving the goals set out in your insurance agent business plan?
Bottom line, set yourself up in advance.
Take Action!
Now you've covered all moving parts, the 6th and final step is to take MASSIVE ACTION!
Review your new insurance agent business plan daily, reminding yourself of your goals and reinforcing your focus.
Perhaps you're wondering if my strategy is too simple.
Well, you're right! I like keeping things simple.
Personally, I think you don't need a 10-page business strategy. That's unnecessary.
I find the more complex activities are, the less likely one follows through.
Keep it simple!
More Resources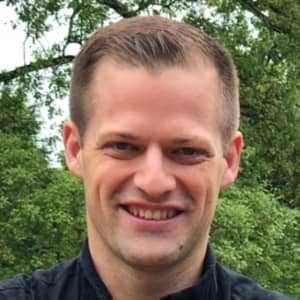 Thanks so much for taking time to read how to create a solid insurance agent business plan.
Looking for a sample template to help you design your plan?
Please follow the links below for some ideas:
And if you'd like to learn more about joining my national insurance agency where I teach agents how to become top producers selling final expense, Medicare Advantage, and mortgage protection, please go here to learn more.