Are you a final expense agent interested in adding AIG / American General's final expense guaranteed issue product to your final expense insurance companies line-up?
Do you want a "No BS" overview from a field-tested agent on how this company's final expense product performs?
If so, you have found the right article!
I'll be discussing at length how American General's final expense products stack up, why final expense agents should consider selling it, and give you my opinion on its pros and cons as a producing agent selling final expense.
NOTE 1: If you are interested in buying an American General/AIG policy, visit this website here for more information how to do it.
NOTE 2: AIG and American General reference the same final expense product. I will use each term interchangeably going forward. Just know it means the same product =).
Quick Navigation Article Links
Overview Of AIG's Guaranteed Issue Product
Application Type: Paper or E-app
Agent Support Hotline: Sales Support – 1-877-399-7747, Prompt #1 and [email protected]. New Business Support: 1-800-247-8837, Prompt #1 then Prompt #2 and [email protected]
Point Of Sale Interview Required? No – You can sell it without meeting the client face-to-face.
State Availability: Available in all states EXCEPT: Maine, New York
Paper Application Submission: Fax to 855-612-9959
Average Policy Issue Turnaround Time: 24 to 48 hours on receipt of application.
Commission Payout: Advance on first draft
Can You Sell Over The Phone? Yes via e-app.
Advancing Available? Yes – 6 months advance for those that qualify.
How Far In Advance Can The First Draft Be? 30 days from the effective date
Frequency Of Commission Payout: Commission paid every Friday
Pays Commission On Policy Fee? No
Age Rating: Based on effective date
Chargebacks On Death: 100% advanced AND earned commission charged back if death occurs in Months 1 – 12, and 50% in Months 13 – 24
Chargebacks On Lapses: 25% advanced commission charged back if lapse occurs in Months 1 – 6
Underwriting Overview: None since this is a guaranteed issue product
Agent Guides: None – AIG doesn't offer one.
Requires E&O? Yes
Acceptable Payment Methods? Bank drafts or debit/credit cards of any kind.
Face Amount Issue Limits: Available ages 50 – 85. Face amount availability between $5,000 and $25,000. Natural death coverage restricted to return of premiums plus 10% payout in months 1 to 24. Accidental death full coverage from day one.
Available Riders: Each policy has both a Terminal Illness And Chronic Illness Accelerated Death Benefit Rider – read more about how they work.
Cover Foreign Nationals? No
Height-Weight Chart? None since this is a guaranteed issue product.
Sample Final Expense Application: Download here
Rate Guide: Download here.
Prescription/Rx Guide: None since this is a guaranteed issue product.
Product Highlights And Underwriting Advantages:
AIG is 1 of 2 guaranteed issue final expense carriers that advance commission.
Handles all forms payment (except monthly direct billing).
Lowest-price or close-to lowest-price final expense guaranteed issue product on the market.
Commission rates higher than the other 2 guaranteed issue carrier options.
Can dual-appoint and have AIG with multiple marketing organizations.
Both the e-app and paper application are super-simple to use.
AIG / American General Final Expense Application Process
First of all, since the AIG final expense product is a guaranteed issue product, there are no health questions whatsoever.
This means that ANY applicant of sound mind – no matter his or her current health – is APPROVED for coverage with American General, as long as the age falls between 50 and 85.
Further, there is no smoker rating or height-weight chart to worry about, too. It's truly GUARANTEED to issue between those ages above.
Coverage starts at a minimum of $5,000, and maxes out at $25,000, which will be appropriate for the vast majority of your final expense prospects.
To review the application yourself, you can download a sample final expense application here.
AIG Guaranteed Issue Rates
What I have found as a producing final expense agent is that AIG has some of the best rates for guaranteed issue coverage.
You can download the AIG GI rate guide here, or you'll have to use a quoter like FEXQuotes.com to look at rates.
In most cases, AIG guaranteed issue has the best rates.
My Thoughts On Using American General's Guaranteed Issue Final Expense Prospect For My Clients
Of all the guaranteed issue products available, my first choice is American General's final expense product.
AIG/American General's final expense guaranteed issue product offers benefits to the writing agent *and* the client that no other guaranteed issue carrier offers.
Here's a few reasons why I think this is the case:
Advanced Commissions: If you qualify, American General advances 50% of your first-year commission after the policy drafts. Other companies like Gerber only pay as-earned, or cap advances like Great Western. Final expense agents NEED cash flow to pay for lead expenses, and American General's guaranteed issue final expense product is the best-in-class.
Competitive Premiums: In most cases, AIG has the lowest guaranteed issue final expense rates available to agents. Most guaranteed issue coverage is ridiculously high, making it much harder to sell. Having competitively-priced premiums makes our lives as agents easier, as we can sell with confidence that AIG offers the best guaranteed issue rates we can find.
Covers 81 to 85: Most guaranteed issue carriers do not insure above 80 years old. Your clients can qualify for AIG's guaranteed issue coverage up to age 85, which can come in handy.
E-App Option: AIG offers an e-app that's super simple to use. I've used it on occasion and had no issues whatsoever. And if you prefer paper applications, AIG is happy to accept them.
More Commission Upside: If you're partnered with the right final expense agency, your commission on AIG's guaranteed issue product should be much better than the other guaranteed issue products.
Drawbacks
In my experience, guaranteed issue carriers have downsides an agent must carefully consider. American General's guaranteed issue product is no different. Let's cover the main drawbacks below:
Chargeback On Lapses: If your client lapses coverage within the first 6 months, American General charges you back the advanced commission *plus* 25% of your earned commission.

Most final expense carriers allow you to keep *all* of your earned commission on a lapse, but American General does not.

In the scheme of things, this is a minor issue to me considering the advantages the product provides.
Confusing Paper Application: While the paper application is simple, it can be a little confusing at times to navigate. Here's how you can overcome them.


When setting up a bank draft, there is no section to list the first draft date and recurring draft date

. You must write both in by hand in the empty margin around the middle of the page. If you do not do this, AIG will draft immediately upon issue and use that initial draft date as the recurring monthly date.

If you take a client with Direct Express, you MUST provide a valid email address

. Many of our clients do not have email addresses. If you submit the application without it, you must have the client provide it and possibly see the client a second time for an amendment. What's the solution? Make an email for the client in the home. You can easily create an email using Gmail in a matter of seconds.
Cannot List An Owner Separate From The Insured: If you are writing a policy on an insured who requests someone else as the owner, AIG does not offer this in the application.
Poor Initial Communication/Support: Many agents complain that AIG does not notify them via email when they are newly appointed, and do not provide supplies via mail like most insurance carriers.

You must go to the AIG Agent Portal and manually print your applications if you don't use the e-app. Also, there are no consumer brochures created that you can use.
No Replacements: This is typical of most guaranteed issue carriers. You cannot use AIG's guaranteed issue product to replace existing coverage.

You can sell a new AIG guaranteed issue policy to someone who does not plan on cancelling out his existing coverage, but you cannot replace it whatsoever.
Summary
Weighing out the pros and the cons of American General's final expense guaranteed issue product, I am firmly in favor of using this product in ANY situation where the applicant can qualify.
Bottom line, AIG offers the best guaranteed issue rates, offers some of the best guaranteed issue commission opportunities, and gives agents who qualify a 50% advance on first-year commission.
While there are drawbacks to using AIG, they pale in comparison to the advantages you and your clients receive.
All of this is extremely important to the final expense agent who is paying for his own leads out-of-pocket and needs faster cash flow to manage his expenses.
Want To Sell AIG's Final Expense Product?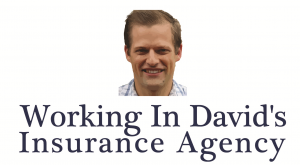 To learn more about contracting, reach out here.
We have access to all sorts of benefits for final expense agents, including:
Top contracts for new and experienced agents. David Duford recruits and operates at FMO/IMO levels, giving him buying power to offer commission levels to agents and agencies others cannot match.
Affordably-priced, high-quality final expense lead programs for direct mail, Facebook, and telemarketing leads. David does not profit from the sale of leads, only referring you to sources with a track record of success.
An endless supply of top-notch prospecting and sales training at your fingertips.
Weekly sales training calls with David, ride-along training opportunities with David and his team, and direct phone/text access to David when you have case placement and sales questions (yes, David answers his own phone =).
Additional training and support for agents interested in cross-selling Medicare Advantage, annuities, or growing their own insurance agency.
Reach out to David by starting here. Talk soon!